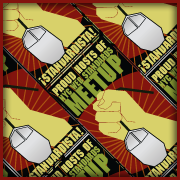 Yesterday, I talked about Web Performance at New York Web Standards Meetup hosted by theMechanism.
Thanks to all attendees for coming to the presentation, I hope it was informative and worked as a call to action.
If you have any questions or need help with your performance optimization project, feel free to post your comments here or contact me directly if you want, I'll be happy to help.
HTML Slides with meta-data embedded using RDFa are available here
If you'd like to watch more presentations on performance (already have about 30 of them), you can visit TechPresentations: http://www.techpresentations.org/Performance
Including a couple presentations about YSlow and related tools: http://www.techpresentations.org/YSlow
Once again, thank to all attending, asking interesting questions and volunteering for YSlow treatment ;)
Sergey