New ShowSlow version 0.10 – all measurements are now surfaced in the breakdown sections on details page.
A few particularly interesting ones, like Page Speed's Transfer Size and Page Size and dynaTrace's Total time on network / JavaScript and rendering, for example.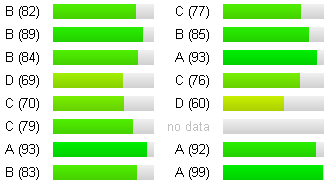 Also some visual prettying up is done with CSS3 gradients for bars (falling back to plain ones for less fortunate browsers) and some better looks for URLs that were just added for monitoring (if you have it enabled on your instance as ShowSlow.com has).
This is a start of the overhaul of details page which is going towards the version 1.0 with the goal of picking your metrics to be displayed on the graph. Stil long way to go though ;)
Follow the upgrade instructions if you already have an instance running.
Or you can download code package and install it.